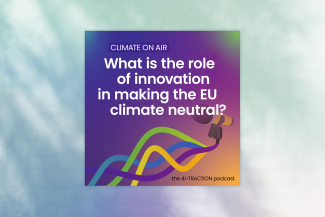 Podcast series: Episode #2 - What is the role of innovation in making the EU climate neutral?
"CLIMATE ON AIR" – Discussing the future of EU climate policy
Innovation plays a key role in steering the EU towards climate neutrality by 2050. Both the public and private sectors need innovation to develop and adopt cutting-edge technologies, transformative climate policies and novel business practices tailored for a climate-neutral society. Today, some innovations are market-ready, such as solar power, but many others still need to be invented and scaled up to reach climate neutrality by 2050.
What policies do we need to promote innovation in support of the EU's climate ambition?
In this 2nd episode, together with climate experts Brendan Moore (Centre for Environment, Economy and Energy of the Brussels School of Governance) and Harm Rienks (Wageningen University and Research), we uncover the pivotal role of innovation in climate policy by discussing both concrete instruments which the EU is using to promote innovation and how, for example, these act as a lever for technologies to move from the pilot stage to a large-scale mainstreaming.
We also explore the innovation-exnovation nexus, the challenges and opportunities for innovation in paving the way for a greener, more sustainable world by 2050, and how current EU policymaking relates to the rest of the world.
Tune in to learn about the power of innovation and its transformative impact on our path to climate neutrality as our guests provide key takeaways for EU policymakers.
Listen now!
The podcast is produced by Ecologic Institute and Eastern University of Finland and is available online on the following streaming platforms: Spotify | Apple Podcasts | Deezer | Amazon Music and YouTube
Become part of the community!
Sign up for our mailing list and stay up to date on upcoming shows and news around this podcast series.
The podcast is part of the 4i-TRACTION project, financed by the European's Union Horizon 2020 research and innovation programme funded under grant agreement No. 1011003884.
Related links