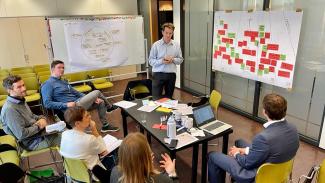 Place:
Brussels School of Governance and Online
Organiser:
Ecologic Institute
Stakeholder Meeting - Brussels School of Governance and Online
4i-TRACTION Policy Lab
What could different policy avenues to climate neutrality look like, when following different rationales and applying different organising principles or policy paradigms? The 4i-TRACTION policy labs explored possible answers to this question.
With a group of EU climate policy experts, the 4i-TRACTION team developed four policy avenues that map out the mix of EU policy instruments necessary to achieve climate neutrality. The policy avenues were summarized and published in the report Policy Avenues Towards a Climate-Neutral Europe and is a key input for subsequent analyses in the 4i-TRACTION project.
The policy lab consisted of three events – two online workshops and a full-day in-person workshop.
Workshop #1 – Setting the Scene Friday, 16 September 2022, Online
The first workshop introduced the structure and the objectives of the policy lab process, the four policy paradigms and the four cross-cutting transformation challenges that the policy avenues need to address: innovation, infrastructure, investment & finance, and integration across sectors (the 4i's). In a second step, experts discussed what they identify as the key characteristics and organising principles of the current EU climate policy. The online event will be recorded for the benefit of experts that cannot attend the first policy lab.
Workshop #2 – Constructing Policy Avenues Friday, 23 September 2022, 09:30 – 17:30, Brussels School of Governance
The core part of the policy lab was a one day in-person workshop in Brussels. In this workshop, experts developed the four policy avenues in break-out groups, with each policy avenue consisting of a mix of policy instruments, combined to embody one of the four paradigms. Policy instrument packages were sequenced over time (before and after 2030) and structured around the 4i challenges.
Workshop #3 – Review, Refine, and Consolidate Friday, 30 September 2022, Online
The last workshop brought the results of the workshops together. With the full group of experts this session was aimed at validating results, giving experts an opportunity to discuss and assess the policy avenues developed by other groups. Moreover, the group discussed major challenges and the implications of the policy avenues for the future of the EU.
Example: The "Green Economic Liberalism" policy avenue
The results of the policy lab were summarised in the report Policy Avenues Towards a Climate-Neutral Europe.
Find some impressions from the policy lab below.