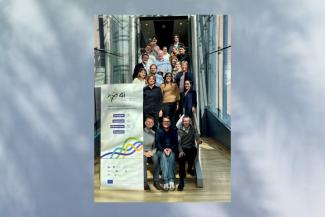 Place:
Brussels School of Governance
Project Meeting - Brussels School of Governance
4i-TRACTION Brussels Project Meeting
The second 4i-TRACTION annual project meeting took place in Brussels on September 22, 2022.
The 4i-TRACTION consortium convened in Brussels for an one-day project meeting on September 22. Implementing partner VUB hosted the project meeting at the Brussels School of Governance and project partners from all over Europe attended.
The meeting focused on discussing the most recent developments and results in the different research workstreams. For example, Climate Analytics presented the results of their modelling exercise in work package 1 and the policy messages that derive from them. WiseEuropa and CE Delft presented their methodological approach for the quantitative and qualitative ex post assessment in work package 2. VUB shared first ideas for approaching the research task on a future EU climate governance framework. Finally, the consortium discussed how their research relates to the EU's policy processes and how it can be made relevant to policymakers.
The 4i-TRACTION consortium also organised a small networking reception in Brussels EU district where they met with fellow researchers, think tankers, and policymakers working on the future of EU climate governance. Damien Meadows, Adviser at DG CLIMA and member of the 4i-TRACTION external advisory board, shared some thoughts on how the 4i-TRACTION project can be relevant to policymakers in these turbulent times.
Below are some impressions from the meeting.